We keep hearing about the dangers of not wearing sunscreen and yet according to the Center for Disease Control and Prevention, only 14.3% of men and 29.9% of women apply sunscreen regularly. Also, 63% of African Americans have never used sunscreen.
Um…people of color listen up…you, me, we all need sun protection. According to the Journal of the American Academy of Dermatology, skin cancer is more deadly for POC. We may get skin cancer less frequently, but we get the deadly kind and have lower survival rates because of the lack of early diagnosis.
Since it's conception in 1946, today we have many different types of sunscreen. Not only is it in lotion form, but it can be a spray, oil and even mousse. Just know when choosing one make sure it's at least 30 SPF and labeled as broad spectrum to get the full sun protection. No excuses!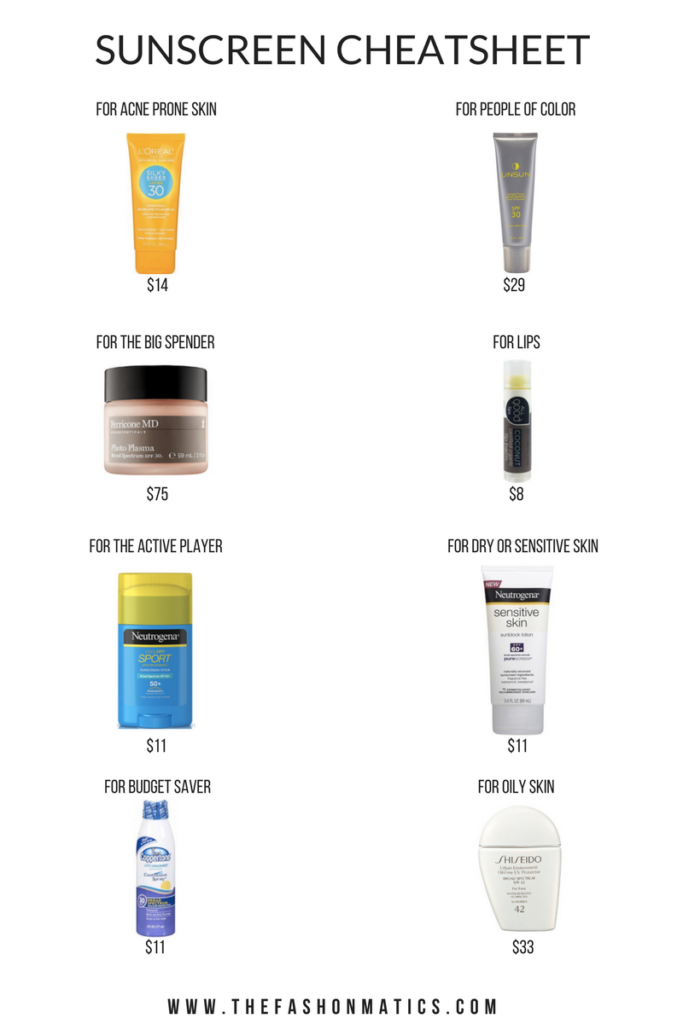 For acne prone skin: L'Oreal Advanced Suncare Silky Sheer Face 50+, $14
For people of color: Unsun Tinted Mineral Sunscreen,  $29
For active: Neutrogena cool dry sport stick, $11
For lips: All Good Lips, $8
For oily skin: Shieseido Urban Environment Oil Free, $33
For sensitive or dry skin: Neutogena Sensitive Skin Sunscreen Lotion, $11
For the budget friendly: Coppertone Sunscreen Continuous Spray, $11
For the big spender: Periocone MD, photo plasma, $75
Fact: SPF on caucasian skin is approximately 3.4 SPF, to where the darkest skin is 13.4 SPF. Alone, this does not protect the skin and prevent sunburns or rapid aging.
SaveSave
SaveSave