Where √ 4 =
I'm Chi and I will be your Fashionmatics "professor". I'm excited to have you on this unusual, but excited adventure.
So…what's the purpose?
When I was a math student, I was always told that math was everywhere. So this blog is to prove that statement. It will bring the two different worlds of fashion and mathematics together. In simple terms, I want my fashionistas to view fashion through mathematical lenses.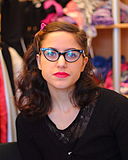 "Ah, I didn't know math could be so fashionable!"
Image by:
Léna
Wait a minute. Math really?!! Eek!
Before you start to break out in hives, I promise it will be fun. As a math and fashion lover I will mostly have topics based on math and how it can relate to fashion.
Oh, thank goodness!
Don't worry, there will be no equations to solve or word problems to decipher. I mean, who cares what time two trains will meet if they leave stations at different times? All you need is to have a sense of fashion or a curiosity for it, and be able to count from 1 to 10. If you can't do either of those, don't worry this is a judgment-free zone. 🙂
For your
first assignment
(I know, I know), is only to follow me,
subscribe to my blog
and to get excited about what's ahead.
X